Pennsylvania Couple Discover Perfect Medicare Plans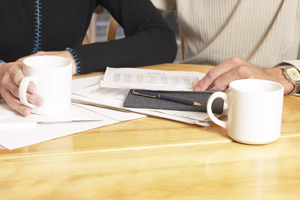 Finding the right Medicare plan can be a confusing, time-consuming and stressful experience. However, Allsup Medicare Advisor®  makes it easy to choose the most affordable Medicare option based on an individual's specific healthcare needs and preferences. When Daniel Schultz decided to retire and take care of his ailing wife, he found it hard to decide on the right Medicare plans for the couple. Read how Allsup guided him through the options in the Medicare maze.
*This is a true story as told to Allsup.
For this Pennsylvania businessman, help came by way of Allsup, which provides Medicare plan selection services to seniors and people with disabilities.
'They Lifted the Gray Fog of Medicare'
By Douglas J. Gillert
Fleetwood, Pennsylvania-Daniel Schultz loved his job, but he loves his wife even more.
A metallurgist, Mr. Schultz talks with great pride about the small foundry tucked in the rolling green hills of southeastern Pennsylvania where-until earlier this year-he was company president and CEO.
"We have 65 employees, and we take good care of them," said Mr. Schultz, who remains a board member and part-owner and continues to "stay in touch." He retired Feb. 11, 2011.
"I reached a stage in life where things had to change," he said. "My wife has suffered with Parkinson's disease and progressive supranuclear palsy for more than 13 years. I could continue hiring people to spend time with her, or I could hang up my 'spurs' and take care of her. She's the girl I fell in love with, and I had to be true to her."
Healthcare costs were of prime concern as the couple prepared for retirement. The company's health insurance premiums were rising spectacularly, as much as 30 percent a year. When he turned 65, Mr. Schultz began learning about Medicare.
"I didn't know exactly when I would retire, or that I would be able to work nearly two more years before my wife's needs became paramount," said Mr. Schultz, now 67. "Medicare told me I should give them six months to set me up." He kept this in mind and continued working.
"I never thought about Medicare and healthcare policies for my wife and me. I was too busy running the company. But when it reached the point where she had greater problems, I made the call."
With Medicare's advice, he settled on an effective date of Jan. 31, 2011. He thought this was all there was to it but quickly learned there was more. "Medicare said I may want to look at supplemental plans to make sure I have everything I need. I asked them what's out there?"
He didn't like the answer.
"I didn't have a clue where to go for information. Medicare didn't talk to me about all the available supplemental options, only their basic options. I needed to know more. Don't tell me what I need to do next; tell me what decisions and selections I need to make. They said they'd send me a package. It was three inches thick!"
He again called Medicare, thinking they would interview him to learn about the couple's specific needs. They didn't. Hunkering down, he delved through the voluminous, confusing literature. And then, reading The Wall Street Journal one day, he saw an article about Medicare that finally made sense.
"The article listed Medicare options, things to do and when to do them," he said. "It highlighted Medicare services available to assist in the selection of supplemental coverage from three different companies, including Allsup. I noticed the article quoted Allsup four times and the other two companies only once."
Allsup is a nationwide provider of Social Security disability, Medicare and Medicare Secondary Payer compliance services for individuals, employers and insurance carriers. Founded in 1984, Allsup employs nearly 800 professionals who deliver specialized services supporting people with disabilities and seniors so they may lead lives that are as financially secure and as healthy as possible. The company is based in Belleville, Ill., near St. Louis.
After researching Allsup on the Internet, Mr. Schultz called the toll-free number and talked to an Allsup representative who outlined the company's services, learned about his particular needs, and reviewed available benefits and costs. "We're here for you," she told him. Two weeks later, he called back.
Allsup Medicare Advisor® (AMA) representative Melanie Sitkiewicz interviewed Mr. Schultz, getting the information she needed to come up with the best Medicare plan based on his stated needs. She explained the differences between Medicare Advantage and Medigap plans and told him, "Let us do the work. We'll provide the three best options in each plan for you. After you get our package, we'll talk about it and make adjustments."
After he reviewed the Allsup package, Ms. Sitkiewicz, guided him through a one-by-one comparison of the plans listed in Allsup's report.
"I thought she would get tired of all my questions, but she was patient," he said. "Sometimes the calls went on for 90 minutes, but she took us through with flying colors. She lifted the gray fog that surrounds Medicare. We've used the policies we bought a number of times. They're perfect."
Mr. Schultz told his company's board chairman about Allsup and urged him to call when facing the numerous decisions that were sure to come. "I knew how to run a company," he explained, "but there was nothing to prepare me for this. Everyone needs to know good help is available."