Community Relations
Allsup is very dedicated to providing resources to various community organizations.
Allsup Employees Raise Record Money for Local BBBS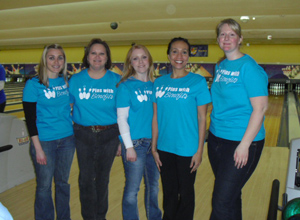 Allsup employees raised a company record of nearly $19,000 for Big Brothers Big Sisters of Southwestern Illinois during the annual Allsup Bowl for Kids' Sake fundraiser at two local bowling alleys.
Kim Rist, Allsup human resources director, said that Big Brothers Big Sisters is a great organization that helps to positively change the lives of so many people. "Allsup appreciates what the organization does, and we are pleased to be able to support them in their efforts. Allsup employees feel good about helping Big Brother Big Sisters, as well as the surrounding communities through their donations.
Allsup and our employees are involved in many philanthropic organizations throughout our community and abroad, including:
Tanzania Medical Mission Team