Fibromyalgia Awareness Day is May 12
Thousands walk to raise awareness; Allsup offers posters and brochures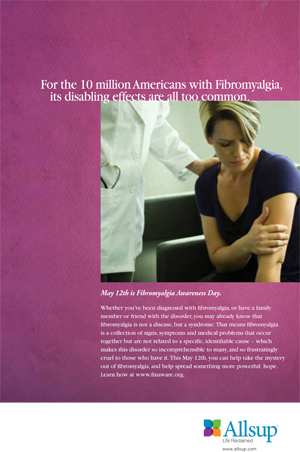 How many miles can you walk between now and May 12? The National Fibromyalgia and Chronic Pain Association (NFMCPA) is encouraging fibromyalgia patients and supporters nationwide to walk a combined 5,408 miles for Fibromyalgia Awareness Day.
If pounding the pavement isn't your style, you can still show your support by downloading a free Fibromyalgia Day poster available at AllsupCares.com. Allsup, which has helped thousands of individuals with fibromyalgia obtain their Social Security Disability Insurance (SSDI) and Medicare benefits, is distributing the posters free of charge to healthcare providers and community groups nationwide. They have also teamed with the National Fibromyalgia Association to produce a Social Security Disability Insurance for Fibromyalgia brochure.
Walk to CURE FM (Campaign for Understanding, Research & Education of Fibromyalgia) is this year's Fibromyalgia Awareness Day theme. It is a step toward raising awareness and advocating for more research into the chronic pain syndrome.
You can take steps to increase your understanding and raise awareness by sharing the following facts:
Fibromyalgia is a central nervous system illness and is also referred to as a syndrome. Unlike a disease, which is a medical condition with a specific cause or causes and recognizable signs and symptoms, a syndrome is a collection of signs, symptoms and medical problems that tend to occur together, but are not related to a specific, identifiable cause.
There is no known cure for FM-treatment focuses on relieving symptoms and improving function.
Nearly 90 percent of the people who have FM are women, but it also occurs in men and children of all ethnic groups.
The diagnosis is usually made between the ages of 20 to 50, but the incidence rises with age so that by age 80, approximately 8 percent of adults meet the American College of Rheumatology classification of fibromyalgia.
Fibromyalgia is characterized by chronic widespread pain, multiple tender points, abnormal pain processing, sleep disturbances, fatigue and often psychological distress. For those with severe symptoms, fibromyalgia can be extremely debilitating and interfere with basic daily activities.
For some, living with fibromyalgia and common overlapping conditions, such depression, irritable bowel syndrome, chronic fatigue syndrome and anxiety disorders, makes it impossible to continue working. In these instances, individuals may be eligible for SSDI.
Read about one woman's fight for her rights while facing the challenges of fibromyalgia.
For more information on Fibromyalgia Awareness Day activities, log on to fmcpaware.org.