Brain Tumor Leaves Arizona Woman Unable to Work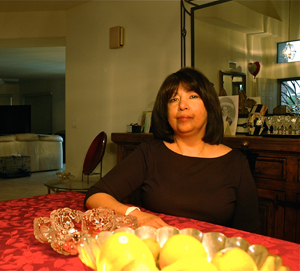 Obtaining
Social Security Disability Insurance
(SSDI) can be a time-consuming and stressful experience. Two out of every three applicants initially are denied. Sarah Rodriguez was a successful financial consultant before a medical diagnosis completely changed her world. A brain tumor affected her ability to earn a living. After working in the banking industry for 30 years, helping people with their financial problems, she now needed assistance with the same issue. A relative used Allsup to obtain SSDI and had a successful outcome. Mrs. Rodriguez decided to see if Allsup could help her too. Read what happened.
* This is a true story as told to Allsup.
When a brain tumor strikes, a family member suggests expert help.
ArizonaFinancial Worker Gives Credit to Allsup
By Barbara Isaacs Renfro
Phoenix, Arizona- For Sarah Rodriguez, it was like lightning.
One minute, she was having lunch with friends, the next moment, when she glanced at one of her companions, she saw him in double vision.
"It was a shock," Mrs. Rodriguez said. "It was all of a sudden. I didn't say anything. You just kind of scratch your head and think: 'What is going on?'"
Not long after, she was having dinner with her husband and had trouble chewing her steak and bit her lip. When she sipped her soft drink, she noticed she couldn't feel coldness on one side of her mouth.
"I was just very, very upset," Mrs. Rodriguez, now 58, remembered.
At first, medical specialists thought she had a stroke, but medical imaging showed a tumor. It was not cancer, but life altering all the same. It was a meningioma, a common type of brain tumor, but unusual because it was extremely fast growing. It also was buried very deeply in her brain, in an area called the cavernous sinus, a region stuffed with veins and critical nerves involved in vision, facial movement and sensation, among other things.
The diagnosis completely changed her work life. Mrs. Rodriguez was a financial services consultant for a credit union. She worked in the banking industry for 30 years. "I liked meeting people and it's often a cold call-there are people who are good at it, and I was."
She was especially good at the more challenging parts of the business, like telling people they were not approved for loans. "The job is a lot of computer and phone work, a lot of speaking. I found myself grasping for a word that I knew was there. I was just not talking very well."
Quite early in her struggle, it was clear to Mrs. Rodriguez that she would no longer be able to work. Mrs. Rodriguez has five sisters, and they wanted to help her file for
Arizona Social Security Disability Insurance
(SSDI), a federal insurance program that provides benefits to people who are no longer able to work due to serious health-related disability.
"All my sisters are in business. We all thought: 'We can do this," Mrs. Rodriguez remembered with a rueful chuckle. But then she was denied benefits. Her sisters wanted to help her through her appeal, but Mrs. Rodriguez wanted other options. "It just seemed like a lot to ask of my sisters," she said. One of her nieces, a former physician's assistant who has multiple sclerosis, had used a company called Allsup to receive SSDI benefits. She highly recommended the Illinois-based company, which has helped more than 150,000 people nationwide to receive their entitled SSDI benefits.
Mrs. Rodriguez contacted Allsup, and they were everything she hoped for. "They ran with it," she said. "They told me what was happening at every stage."
Fourteen months after contacting Allsup, Mrs. Rodriguez got a surprising call from Allsup, asking if they could debit her account to retrieve their fee. "I was like: 'Oh, the money is in the account!'"
Mrs. Rodriguez was awarded benefits at the hearing, the second disability appeal level. Mrs. Rodriguez worried that she would have to appear at a hearing before a judge during her claim for benefits. "My heart sank," she said, remembering her worry about a possible appearance. But Allsup worked to get the case settled without a hearing. "It was a big relief," she said.
The phone call she received was the first word that she had received her benefits, and it was a big victory. That sort of success is common with Allsup: 98 percent of people who complete the SSDI process with Allsup receive benefits.
That call came only a month after Mrs. Rodriguez underwent a risky six-hour brain surgery. Specialists had exhausted their other options, including two types of high-tech targeted radiation treatments. Still, within 10 months, the tumor had doubled in size.
Because radiation had not slowed the tumor's growth, specialists recommended brain surgery, even with the risks. Mrs. Rodriguez had the surgery on April 13, 2010. "It was a very dangerous surgery," she said. "My husband was a wreck." They've been married 35 years.
The nature of the tumor's growth and its location made it impossible to remove completely. Mrs. Rodriguez still has severe headaches and occasional pain in her mouth, cheek and corner of her eye; sometimes she has fluttering in her left eyelid. "It varies, but it is every day," she said.
Like many people with serious chronic illnesses, she also was diagnosed with depression. Medication helps with nerve pain, and Mrs. Rodriguez found the lowest dosage helps a lot.
For now, specialists are keeping an eye on the tumor with MRIs. Her growth is considered an aggressive one, so it needs surveillance. "They watch, and they say everything is good."
There is one thing about her experience she wants to pass along to others battling medical problems: "There is no dumb question," she said. "You need people who can answer your questions."
Many thousands of SSDI applicants could say the same when it comes to seeking their Social Security disability benefits: Get help from a company like Allsup that can answer your questions and help you receive the benefits that you paid for throughout your working career.