Back Pain Creates Physical Limitations for Virginia Police Officer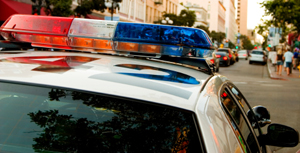 Obtaining
Social Security Disability Insurance (SSDI)
can be a time-consuming and stressful experience. Two out of every three applicants initially are denied. Police Officer Janice Dale suffered with a diagnosis of degenerative disc disease and arthritis. A vicious cycle of pain left her with no career options. An Allsup representative helped Officer Dale get her 'ducks in a row' to receive SSDI benefits…read how here.
*This is a true story as told to Allsup.
Not everyone grows up with back pain, but the police lieutenant accepted it as a normal part of life until she could no longer work.
Disability Strikes Down Richmond Police Officer
By Jim Katzaman
Chester, Virginia-At first glance, Janice Dale seemed an unlikely candidate for disability. She was a physical fitness advisor for the Richmond Police Department, working on her certification to be a personal trainer after she retired.
The fitness expert also was in denial.
"As a child," she said, "I remember having cricks in my neck. In high school, I had pain that went across my shoulders and down my arms, but I thought all people felt like that."
Despite her discomforts, Ms. Dale joined the police department, eventually becoming a lieutenant. When she felt pain, she just worked through it.
"I had always been very active," she said. As her ailments started to catch up with her, she went to chiropractors, massage therapists and physical therapists.
She started to go to an osteopathic doctor and physical therapist for her neck in the 1980s. She used heat packs and, in her words, "just kept pushing." In the late1980s, she was hospitalized and spent seven days in traction for lower back pain. In the early 1990s, she went out of work for seven weeks with neck, shoulder and arm pain.
Her eventual diagnosis included degenerative disc disease, arthritis and hypermobile Peluis. One of her doctors said she had "the spine of a 70-year-old."
Lieutenant Dale, 52, was placed on light duty for seven weeks in 2003. "I couldn't wear the gun belt and uniform," she said. "Luckily, I had worked long enough to make sure I could make it to 25 years and retire."
She retired in January 2004, but she had to abandon her plans for a second career as a personal trainer. "I had the certifications," she said, "but it didn't work out. I was in a vicious cycle of going to the doctor and having setbacks."
When she told her doctor she was letting her certifications expire, she replied, "You finally realized your limitations."
Admitting her limitations also meant Ms. Dale needed to apply for
Virginia Social Security Disability Insurance
(SSDI) benefits. A friend who had professional help getting approved for benefits  recommended that Ms. Dale call Allsup.
Allsup is a nationwide provider of Social Security disability, Medicare and workers' compensation services for individuals, employers and insurance carriers. Founded in 1984, Allsup employs more than 600 professionals
who deliver specialized services supporting people with disabilities and seniors so they may lead lives that are as financially secure and as healthy as possible.
"I was really glad that I called Allsup because everyone was professional and knowledgeable," Ms. Dale said. "I felt so secure in their hands."
After she completed the initial questionnaire in August 2006, Allsup specialists followed up to more fully answer questions and gather information from her doctors and medical records to submit her initial application.
SSA denies more than half of initial applications for SSDI and appeals, and Ms. Dale was no exception. She was disappointed with her first denial, but Allsup specialists had prepared her.
"Allsup explained to me that everyone has back problems, and you have to prove it's severe," she said. "Naturally I was disappointed, but I put my faith in Allsup."
After the second denial, the next step was setting a hearing before an administrative law judge in Richmond, a process that can take many months. "It went on for ages and ages," Ms. Dale said.
By this stage, Allsup senior representative Hayley Foglietta had taken charge of the case. She compiled all of Ms. Dale's records into a brief along with arguments-based on Social Security's own guidelines-on why she should receive
SSDI benefits
.
The hearing was set for February 2009. Ms. Dale and Ms. Foglietta met in person shortly before they entered the courtroom.
"Hayley was so amazing," Ms. Dale said. "She had all her ducks in a row."
The hearing lasted 45 minutes, but Ms. Dale said the time flew. "I was shocked that it went so fast," she said. "Hayley knew exactly what the judge needed and had everything prepared. My file was on a disk so the judge could bring it up on his computer. After he questioned a career disability specialist, he told me it was pretty obvious that I couldn't be a police officer again.
"I was shocked," Ms. Dale said. "I looked at Hayley and asked, 'Does that mean I'm going to get Social Security?' She said, 'Yes, honey, you've been approved.'
Within a few weeks, Ms. Dale started to receive her SSDI payments, which lets her buy the medicine she needs to ease her discomfort.
"Just last week I had to go to the chiropractor three times to get my tailbone unlocked," she said. "I can do that now and not have to sit back in pain.
"Allsup eased a lot of my worries," she said. "They told me what to expect and were very professional. I recommend them very highly. They did all the work, and I had a very pleasant experience."