Severe Arthritis Strikes Young Los Angeles Mom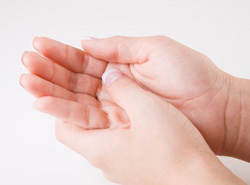 Obtaining Social Security Disability Insurance (SSDI) is a difficult and complex process. Two out of every three applicants initially are denied. Flor Pineda was no exception. Unable to work due to chronic pain caused by rheumatoid arthritis, she applied for SSDI and was denied twice. She shares her story here.
* This is a true story as told to Allsup.
Assistant manager finds that ravages of disability can strike at any age.
'I Was Too Young to Have Arthritis'
Los Angeles, California-Flor Pineda knew she was too young to be so sick. She was just 30 years old in 2006 and had given birth to her second child only a few weeks earlier. However, instead of a normal recovery, her post-partum time was one of increasing pain and weakness.
In the 13 years since she had graduated from high school, she had worked at four jobs, most recently as assistant manager for a trucking company. She also had gone to school to learn accounting and helped her father with taxes at his construction company. None of this involved physical labor, but something was going wrong.
"Three months after the birth of my second daughter, my body started hurting," she said. "I thought it was normal after childbirth, but it hurt worse every day. My doctor said I had something like a virus. He gave me antibiotics, but the pain kept getting worse.
"A second doctor said I had arthritis," she said. "But my mom said that was wrong because I was too young to have arthritis."
Ms. Pineda soon found a rheumatologist whom she still sees today. The doctor confirmed the rheumatoid arthritis diagnosis, and the illness was growing more severe.
"It got so bad that I had to be put in a wheelchair," she said. "I couldn't shower myself because I couldn't take the pain. The rheumatologist gave me the strong medicine needed to get me mobile, but it was a long process."
Meanwhile, Ms. Pineda's husband had to take time off work to care for her, and he eventually left his job.
"We didn't have insurance because my husband worked on commission," she said. "I checked at the Social Security office to see if I could qualify for Medi-Cal through them."
Medi-Cal is California's Medicaid program. It is a public health insurance program that provides healthcare services for low-income people, including families with children, seniors, persons with disabilities, foster care, pregnant women and low-income people with specific diseases. Although she did not realize it at the time, Ms. Pineda was actually applying for Security Disability Insurance (SSDI) benefits.
"The first time I went to Social Security," she said, "they said they would help get us help through the state. They sent me to a doctor, and he asked me where it hurt. I told him, and he wrote down stuff without doing any tests. Social Security, based on his statement, said I was fine, that I wasn't disabled."
Ms. Pineda was still confused. "When I went to Social Security," she said, "I just wanted insurance coverage. I didn't want any money for disability."
After her application was denied, the letter from Social Security said she "could appeal through a lawyer or get someone to fight for me. I went on the Internet to search, and Allsup was the first name that popped up."
Allsup is a nationwide provider of Social Security disability, Medicare and workers' compensation services for individuals, employers and insurance carriers. Celebrating its 25th anniversary in 2009, Allsup employs about 600 professionals who deliver specialized services supporting people with disabilities and seniors so they may lead lives that are as financially secure and as healthy as possible. The company is based in Belleville, Ill., near St. Louis.
"I saw Allsup had a success rate of 98 percent and that I didn't have to pay anything unless I won," Ms. Pineda said. "They had been in the business for a long time, and they work only with Social Security, so they'd know what to do."
Allsup representatives explained to Ms. Pineda that her application was actually for SSDI. "They told me what I was fighting for," she said. The company assigned senior representative Deborah Breeden to Ms. Pineda's case as it moved to a hearing before an administrative law judge.
Ms. Breeden is one of many Allsup senior representatives located throughout the country who draw on their expertise to guide clients through their appearances before a judge.
Ms. Pineda and Ms. Breeden met before the hearing in February 2009. "Right before we went in," Ms. Pineda said," Deborah explained what would happen.
"The judge was really nice and asked a lot of questions," she added. "He wished me good luck and indicated I did win. I couldn't believe it, after fighting for so long and so hard for something I really knew I needed."
Since receiving her fully favorable decision, which included a monthly cash benefit and a lump-sum payment retroactive to the onset of her disability, Ms. Pineda said the SSDI benefit has helped her and her husband "live within our means."
She also is grateful for the help she received in getting her SSDI claim granted.
"Allsup was wonderful," she said. "What I read about them was true. For everything we needed, they were perfect. They were the right thing at the right time. I've recommended them to other people I know who are going for their disability."