Stroke Removes Manager from Job Market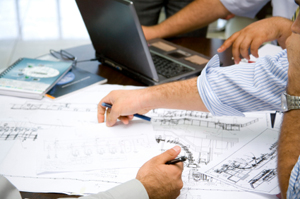 Obtaining
Social Security Disability Insurance
(SSDI) can be a time-consuming and stressful experience. Two out of every three applicants initially are denied. After a stroke incapacitated Jeff Barrows, his application for SSDI was denied-twice. Read how Allsup helped him to successful resolve his claim.
* This is a true story as told to Allsup.
A stroke stopped his career dead in its track, forcing the former facilities manager to seek disability benefits.
'I Gave Up … Never Thought I'd Hear Anything Back'
By Jim Katzaman
Malden, Massachusetts-More than 20 years had passed since Jeff Barrows started work as an information technology manager, eventually making his way up to facilities manager for a company in Boston. As the economy slacked off, he would occasionally be laid off for several weeks.
During one such layoff in 2008, Mr. Barrows, then 58, was in his back yard reading a book when his wife noticed his speech had changed along with his mood. He didn't detect the difference himself, but at his wife's urging he went to his doctor for a checkup. To the patient's surprise, the doctor told him he had suffered a stroke.
Already taking medication for Type 2 diabetes, Mr. Barrows still thought he could go back to work. However, his current and other potential employers thought otherwise. No one called him back. When a specialist evaluated him as incapacitated, Mr. Barrows decided to apply for
Massachusetts Social Security Disability Insurance
(SSDI) benefits.
From the outset of the application process, other people told him to expect disappointments. This included the representative at the Social Security office.
"He was a nice young man and did the best he could as he worked within the system," Mr. Barrows said. "But he said my disability application would probably be turned down at least twice before it would go through, and he was right."
That was a well-founded assessment. Nationwide, 65 percent of initial SSDI applications are denied. At the next level, 87 percent of appeals are denied.
While his appeal was still in process, Mr. Barrows' sister, a former nurse, had a suggestion. She had been disabled by a back injury and turned to Allsup, a company that helped her win her
SSDI benefits
.
Allsup is a nationwide provider of Social Security disability, Medicare and Medicare Secondary Payer compliance services for individuals, employers and insurance carriers. Founded in 1984, Allsup employs nearly 800 professionals who deliver specialized services supporting people with disabilities and seniors so they may lead lives that are as financially secure and as healthy as possible. The company is based in Belleville, Ill., near St. Louis.
In September 2010, Mr. Barrows called Allsup, which took charge of his case. "They sent detailed forms for me to fill out," he said. "Then Allsup gathered all my records from my doctors. I never had to testify or anything like that. I never had to do anything once Allsup took over."
His experience was typical. Nearly 85 percent of Allsup claimants are awarded without ever having to attend a hearing or see an administrative law judge. Through the years, more than 150,000 people have gotten their disability benefits with Allsup's help.
With the professionals at the controls, Mr. Barrows could have been confident, but the previous setbacks with his application made him err on the side of caution.
"To be frank," he said, "I gave up on it. I never thought I'd hear anything back."
So, he was "very surprised" in March 2011 when he received a letter from Social Security telling him that his claim was awarded.
Now receiving monthly benefit income, Mr. Barrows is not receiving what he earned on his previous job, "but I'm better than where I was before my claim went through."
Looking back on his experience, he said, "I'm OK with Allsup. They worked hard, and the end result came out so well."