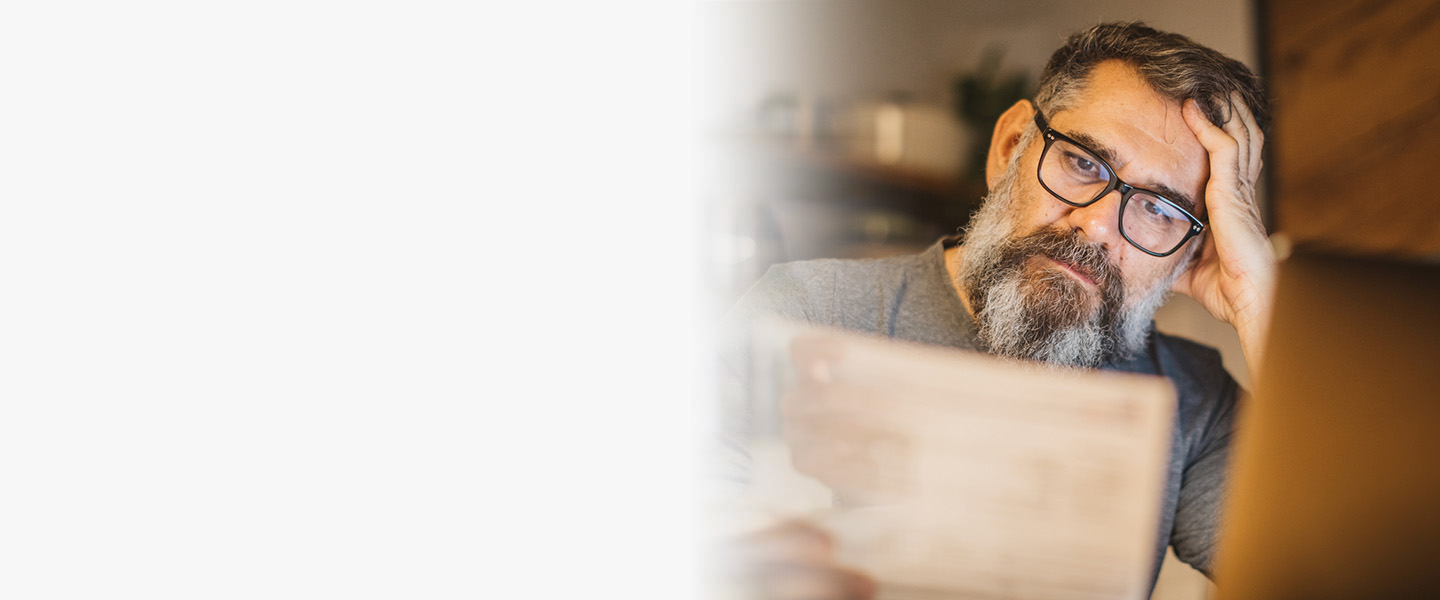 Were You Denied Social Security Disability Insurance?
Trust Allsup To Tell Your Story™
It's frustrating when your Social Security disability claim is denied. You probably never even got to tell your personal story. With decades of experience, our Allsup experts can handle your appeal at any level.
We have a 97% success rate for those who complete the SSDI process with us. Our award rate is 8% higher than the national average of 13% for the first level of appeal and 18% higher than the national average of 51% at the second level of appeal.
How Do We Help Make Your Appeal A Success?
Allsup SSDI appeals experts build your case so the government knows your personal story and why you deserve disability benefits.
Review
Why Social Security denied your application
Ensure
Your appeal is well documented with medical and other evidence
Flag
Government errors and correct them
Focus
On getting your case approved early in the appeals process to reduce your wait time
Communicate
Directly with SSA for you every step of the way
Represent
Appear on your behalf at a hearing if necessary and depose government witnesses
Frequently Asked Questions About SSDI Appeals
What Are Common Reasons SSDI Applications Are Denied?
Examples of factors that may lead to your claim for Social Security disability benefits being denied include: issues with the onset date, which is the date the disability is said to have occurred; work history, encompassing the types of work and activity level; documentation provided with your medical claim, comprised of medical records; and support from your physician(s). Allsup appeals experts can assist with reviewing the situation and details of your denial and evaluating your options with an appeal.
How Do I Prepare For My Social Security Disability Appeal?
If you were denied Social Security Disability Insurance benefits with your claim, it's important to request an appeal as soon as you can. The first appeal after your initial denial is called the reconsideration. This is when a state Disability Determination Services (DDS) examiner reviews your claim and makes a decision based on the information submitted in your claim file. An Allsup expert and will instruct you in the best way to prepare for your reconsideration in your unique circumstances. You can relax and leave all the details to us. If you are denied again, then you may face an appeal at a hearing before an administrative law judge. An Allsup representative can help you prepare for your hearing. They'll also accompany you to the hearing and advocate on your behalf in front of the judge. Allsup can help you throughout the appeals process.
What Are The Steps in the SSDI Appeals Process?
There are five different levels in the SSDI process. Working with Allsup from the start, gives you a 23% higher chance of getting approved when you initially apply. This will save you months of waiting for a decision and gets monthly benefit money in your hands much sooner than applying on your own.
Level One - Application 4-6 months
At the application level, the SSA assigns cases to your state Disability Determination Service (DDS) office. These offices are state agencies that make the medical decision for the federal program. Allsup will assist with completing questionnaires, submitting vocational documentation, and providing medical updates.
Level Two – Reconsideration 3-5 months
If the initial disability application is denied, it's time to file a reconsideration, or first appeal. The case will be assigned to DDS again for a second review of the medical criteria. The reconsideration process is the same as the initial level, however cases are generally assigned to a different DDS examiner.  
Level Three – Hearing 10-24 months
If the reconsideration is denied, you must file for a hearing before an administrative law judge (ALJ). The case will be handled by the Office of Hearings Operations (OHO). OHO usually processes cases in the order received. About 20 days prior to your scheduled hearing, you will receive a notice indicating the date, time and place of your hearing. The ALJ usually holds the hearing within 75 miles of your home. If the ALJ schedules a hearing, you should make every attempt to attend due to the backlog of cases waiting for a hearing. After your hearing, the ALJ reviews all evidence and issues a written decision.
Level Four - Appeals Council 8-24 months
If the hearing ends in a denial, you may submit an appeal, along with any additional medical information and a written brief, to the Appeals Council. The Appeals Council reviews the hearing decision to determine if it was rendered properly according to the law. Only 1 percent of third appeals result in a favorable decision for the applicant.
Level Five - Federal Court 10-24 months
The final level in the appeal process is the federal court system. Less than 1% of all claims reach this level. Approximately 70% of these appeals are denied with a small amount receiving a decision in Federal District Court that resulted in an award. The remainder of those are remanded, or sent back to the hearing level, for an additional hearing.  
Why Should I Choose Allsup to Represent Me With My SSDI Appeal?
Allsup will represent you throughout the SSDI appeals process. Allsup has more than 38 years of experience and has helped over 350,000 customers receive SSDI benefits. We have a 97% success rate when you go through the entire process with us and a 97% customer satisfaction rate. Dozens of our Allsup experts worked at SSA and DDS. We know what the government is looking for in your claim to get it approved.