Before You Choose Your SSDI Representative
A Message from Jim Allsup: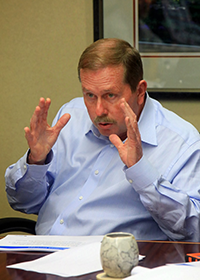 Hi, I'm Jim Allsup. Thanks for considering Allsup to represent you in getting the
Social Security Disability
Insurance (SSDI) benefits you deserve. Who you choose to represent you is one of the most important decisions you'll ever make.
I know it's not easy and it's confusing. But, look carefully.
Lots of organizations out there work really hard to look and sound like Allsup. They know Allsup has a great reputation with its customers - but, I don't consider it flattery when they try to imitate us to confuse you. Then there are hundreds of generic-sounding disability and legal marketing websites that ask you to give them your name and personal information, which they sell to someone you've never heard of and someone you didn't get to choose.
It can be tough when you face a potentially long wait for your
disability benefits
and you've never done this before. You want someone with experience who gets results and treats you with respect. So, here's what you need to know about Allsup:
We've been at this for more than 30 years and we've gotten more than 250,000 people their SSDI benefits.
We take care of you: 97 percent of our customers say they'd refer family and friends to us and many of them do.
If you're eligible for SSDI, we can help you, at anytime in the process, from initial application to disability appeal, with experts at each level.
We won't charge you extra for getting your medical records and business expenses like a lot of other SSDI representatives.
We're easy to talk to, and usually you get a real person who can help you when you call us. And you can communicate with us on a secured website.
We're not lawyers and you don't need one. What you need is an SSDI expert who can put together a well-documented claim so the SSA or a judge can make the right decision.
We get that you have a disability that affects pretty much everything in your life. If you need them, we have other services that can help you get through this financially and to find Medicare coverage.
Finally, there's something I think a lot of people look for these days, and it's pretty simple. A real person's name is on our door.
Thanks for listening, and for considering Allsup.
Jim