Allsup Medicare Advisor® for 65 Plus FAQs
More about Allsup Medicare Advisor®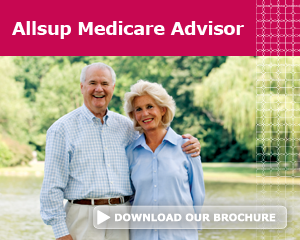 Allsup Medicare Advisor is a unique and valuable service designed to help people like you choose the Medicare option that best meets your needs. If you have a question that is not answered here, you may contact us by e-mail, chat with us now, or call us at (866) 521-7655.
1. What is included in Allsup Medicare Advisor?
Access to highly-trained Medicare specialists who research all the plans in your area and guide you through the process of selecting and enrolling the plan you choose;
Easy-to-understand explanations of the different types of Medicare plans and plan features;
Online access to your Allsup Medicare Advisor information and our extensive resources; and
An easy-to-read, but detailed report that clearly presents your plan options based on your needs.
2. Once I've chosen the Allsup Medicare Advisor, what happens?
We start by identifying your specific needs and preferences for a Medicare plan, including which doctors you visit, prescription drugs you take, health conditions you may have and more.
Then, we will research all the Medicare plans available to you in your local area, focusing on those most likely to meet your needs. We'll create a detailed report highlighting those plans and comparing coverage, premiums, out-of-pocket costs and even the donut hole on drug coverage. Your Allsup Medicare specialist will review your customized report with you and help you enroll in the plan of your choice.
More information about the report and more detailed information on the Allsup Medicare Advisor process is also available online.
3. Does Allsup recommend one type of Medicare plan over another?
No, but we can help you understand which types of plans might be right for you based on your budget or types of illnesses you might have. Some people prefer Medicare Advantage plans that cover medical, dental and drug needs under one plan. Others prefer to choose different plans from different providers for medical and drug coverage. The decision is yours - but we help you make the choice that works best for you.
If you would like to learn more about the Medicare options that may be available to you, including Original Medicare, Medicare Advantage, Part D and supplemental plans, read our Medicare FAQs. If you would like to speak to an Allsup Medicare Advisor specialist, you can get in touch with us by e-mail or call us at (866) 521-7655.
4. What if I have certain doctors I want to continue to see?
An Allsup Medicare Advisor specialist will review all the available plans in your area with your preferences in mind, including which doctors you see. If we can't find a plan that includes your doctor, we make every attempt to find acceptable alternatives and work with you to identify and resolve any particular coverage requirements you may have.
5. Is it necessary to review my Medicare plan every year?
Medicare plan prices, coverage and availability could change every year. So, a plan that was relatively inexpensive this year may be more expensive next year. Or your health may change and that means making sure you have a plan that meets your new needs for medical and drug coverage.
6. What if my circumstances change? For example, what happens if I move?
If you experience certain changes, you should have your Medicare options re-evaluated. Events that can affect your Medicare coverage include:
Moving outside your plan's coverage area
Increasing your amount of travel away from home
Moving into or out of a long-term-care facility
Becoming eligible for low-income subsidy 
7. Do you have more information on Medicare?
Yes, we have an extensive listing of frequently asked questions on our website. Click here for our Medicare FAQs.
If you're not certain whether you should review your Medicare options again, don't hesitate to contact us by e-mail or by calling (866) 521-7655.
Disclaimers: Allsup does not provide tax, legal, investment, insurance, financial planning or medical advice or counsel under the Allsup Medicare Advisor®and related services. You are responsible for making all decisions with respect to the products and services you utilize under the Allsup Medicare Advisor, including but not limited to selecting a Medicare Advantage plan that best matches your needs, and for obtaining any personal tax, legal, investment, insurance, financial planning, medical or other advice or counsel that you believe is necessary or advisable with respect to such products or services.
The analysis and results produced by Allsup Medicare Advisor are heavily based on the information provided by individual subscribers to the service. As such, Allsup assumes no liability resulting from inaccurate, incomplete, or invalid information provided by Allsup Medicare Advisor subscribers. Subscribers are also solely responsible for coordinating their Medicare coverage with any benefits and health insurance coverage offered through an employer or otherwise. Allsup does not represent or work for Medicare or Medicaid. If you need help applying for Medicaid, contact your state Medicaid office.