Medicare Advisor Personal Stories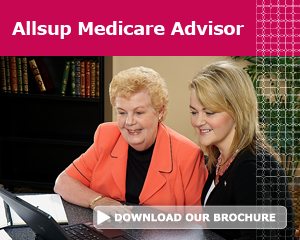 Selecting the right Medicare plan is difficult. However, Allsup Medicare Advisor® makes it easy to choose the best, most affordable Medicare options based on your individual healthcare needs and preferences. The following stories feature real people's experiences with the Allsup Medicare Advisor.
Medicare Eligible due to Disability
Medicare Eligible due to Age
Allsup Medicare Advisor Customer Quotes

"The various plans, coverages, costs deadlines and other regulatory issues were a bit confusing to us and we knew we needed some wise counsel. Melanie (at Allsup) knew when to listen and how to visualize the concerns coming from us 'everyday' people."
"I appreciated the ease of use with this service. It took all the stress out of the Medicare selection process."
"The service was so valuable to me. I had no idea what plan to choose and the Allsup Medicare Advisor helped me understand my options."
"This is an absolute necessity for anyone who is facing Medicare. You get to talk to a person who gets to know your unique situation and helps you identify the best plans for you."
"They put together a comprehensive booklet of all the Medicare Advantage plans. It was so much easier to use the booklet than research all the plans myself. The information was at my fingertips."