Medigap
Medigap is secondary insurance offered by private companies that is specifically meant to fill the gaps in traditional Medicare. Medigap includes coverage for things such as co-payments or coinsurance, deductibles and more.
Medigap Options
There are 10 standard Medigap policies available to people age 65 and over with Medicare. These plans are offered everywhere but Massachusetts, Minnesota and Wisconsin, where plans are standardized differently. For more information on those states, click on the links. Some Medigap policies also are available to people under age 65 with disabilities.
Medigap policies can differ in the amount of coverage they offer and by price. For example, Medigap policy A offers the most basic coverage, while Medigap policy N offers very rich coverage. But regardless of which policy you choose, any company that offers a Medigap policy must provide the exact same benefits you would get with the same policy at a different company. For example, if you choose Medigap policy A at one company, if you go to a different company to compare prices, that company must offer the same coverage under Medigap policy A.
But not all companies offer the same policy at the same price. So, while Medigap policy A might cost $150 at one company, it could cost more or less at a different company, even though you'll get the same benefits.
Comparing Medigap Coverage
The chart below lists all the Medigap policies' coverage for Plans A, B, C, D, F, G, K, L, M and N. All Medigap policies are required to include Medicare Part A coinsurance, Medicare Part B coinsurance, hospice care and up to three pints of blood per year.
As you can see, some policies fill in the gaps in Original Medicare more completely than others. You'll note, too, that none of the Medigap policies cover prescription drugs. This is because most drugs that Medigap would have covered are covered under a Medicare Part D plan.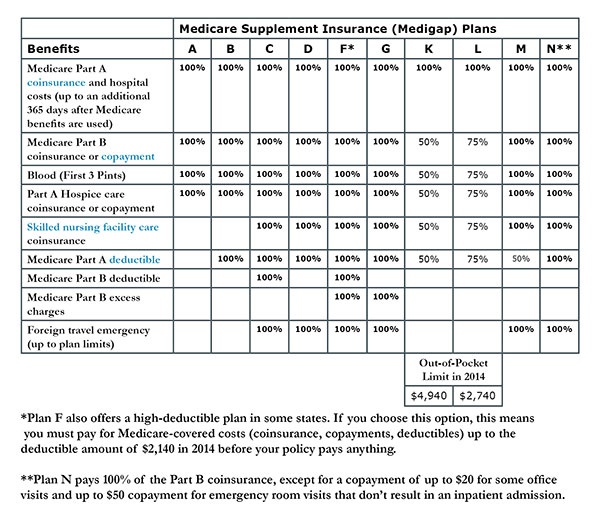 What You Need to Do
If you are looking for a Medigap plan, contact the plan of your choice for information on how to enroll or choose Allsup Medicare Advisor® to help you understand your options. You also can use the chart provided for information about each plan.
Please Note: The information provided above is applicable to plans nationwide except those located in Minnesota, Massachusetts and Wisconsin, where plans are standardized differently.