Unclaimed Property
Are you leaving money on the table? Unclaimed property includes a broad range of untapped financial resources that rightfully belong to many Americans. Although the exact dollar amount of unclaimed property in the United States is not known, experts estimate that federal and state governments are holding in trust more than $400 billion in unclaimed assets until their legal owners come forward.
With as many as one in eight Americans entitled to some sort of unclaimed property, there is a chance that you own money or assets you don't even know about, including:
Inactive accounts at financial institutions, insurance and utility companies, such as old checking accounts, insurance payments you're owed or utility deposits
Securities and trusts, like stocks, bonds and other types of assets
Jewelry, coins, medals and currency
Gift certificates
Finding unclaimed property at the state level
Most unclaimed property at the state level is never claimed. In fact, about $33 billion in unclaimed property is held by state agencies within the United States, with just a fraction - roughly $2 billion - returned to the legal owners every year.
Each state is responsible for maintaining its own unclaimed property program. To learn more about state unclaimed property programs, use the state map below and click on the state(s) you're interested in to receive the contact information for their unclaimed property program.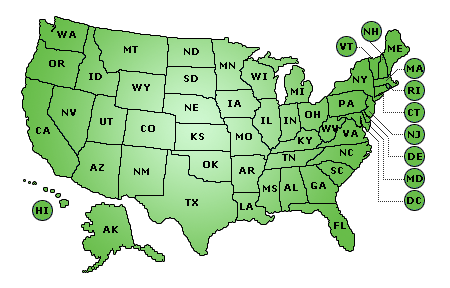 Why should you care about unclaimed property?
With the cost of living on the rise, basic living expenses and healthcare are becoming more difficult to afford. Although most people who investigate it won't experience a windfall from unclaimed property, if you are entitled to unclaimed assets, you'll still receive a boost in cash flow that could help you pay your bills. Alternatively, you could use any unclaimed property you're entitled to for retirement by placing it into an investment account.
Why would the government or a company have your property?
As people age, many open up savings and retirement accounts, acquire stocks and bonds or open safety deposit boxes. These assets are often forgotten or are not returnable to their owners if the owner has moved or changed their name. Alternatively, if the owner has passed away, their family may be unaware of those resources.
Although the federal government uses Web sites, cross-checks public records and stages awareness events, people entitled to unclaimed property often remain unaware of the money available to them. Unclaimed or unchecked payments and checks are returned to the issuing agency to be held on behalf of the rightful owner.
When can you collect unclaimed property?
In general, there is no time limit to collecting unclaimed property. In some cases, unclaimed or lost property has been returned to its owners up to 50 years after it was turned over to a state or federal agency. If the owner of the property has passed away, his or her relatives are able to file for the deceased's unclaimed property on their behalf.
What do you need to collect unclaimed property?
Before you begin your investigation into collecting unclaimed property, you should know approximately when the account was opened, the check was written or the safety deposit box was rented and the individual to whom the property belongs (if it's not your own). If you did not originally own the property, you'll need to provide the state or federal agency with documentation proving that the property is rightfully yours, whether it is a will, power of attorney or other legal documentation that clearly assigns the property to you.
What should you know before beginning your investigation?
If you are interested in learning more about possible unclaimed property, beware of companies offering to assist you, particularly those offering to do so in return for a fee or percentage of your property. All the information these companies use to find unclaimed property is available to you for FREE.
While the federal government does not have a universal database listing all unclaimed property, different departments within the federal government have databases to help the rightful owners locate their property.
If you think you may have unclaimed property, there are several government agencies you may contact. Some of these offices include:
State Treasury
Department of Revenue, Tax Division
Department of Revenue, the State Controller's Office
Department of the Treasury
Division of Revenue
Treasurer's Office
Comptroller's Office
Is retrieving unclaimed property worth the effort?
While retrieving unclaimed property requires some research and may involve paperwork, it might be worth it to collect assets or money that are rightfully yours. Taking these steps will help ensure that you get all the resources you're entitled to, and you may discover additional resources to invest in your or your family's future.
Finding your federal-level unclaimed property
In the United States, there is nearly $300 billion in unclaimed property being held by the federal government for its rightful owners. Unclaimed property at the federal level includes:
Savings bonds
Payments for bank failures
Unclaimed credit union shares
Damaged money (i.e., torn bills and/or checks, damaged coins)
Unclaimed economic stimulus payments
Class-action payments
Government benefits
Insurance refunds
Tax refunds
"Whistleblower" rewards for reporting tax fraud
Savings bonds alone account for $14.75 billion in unclaimed property. More than 35 million of these bonds have matured since they were initially purchased, some of which have been lost or forgotten by their owners or their owners' families. Since this money is undeliverable to its rightful owners and because there are so many matured bonds whose owners have not yet stepped forward, the U.S. government has begun a program called "Operation Rightful Owner" to reunite people with money they may not know they had.
The National Association of Unclaimed Property Administrators (NAUPA) has gathered all the information needed to claim your property at the following location online: http://www.unclaimed.org.
To find federal unclaimed property, you may still need to search by state. This is because a lot of unclaimed property is related to a change of address or, even though it is absorbed by the federal government, may be recorded or held by a local office of the federal entity that retained it. On the NAUPA site, you can select your state from the map or drop-down menu to find the contact information within your state for the department or office that handles unclaimed property. By clicking on the department's Web site, you will be directed to a page that allows you to search by name and city for unclaimed property.
If you do have federal unclaimed property within that state, there are downloadable and printable forms with directions on how to claim your property free of charge.
Also, the FDIC (http://www.fdic.gov) collects unclaimed property whenever a failed financial institution that had federal deposit insurance is liquidated. This includes insurance deposits, dividends and funds to shareholders. You can search by your name or the city, state and name of the failed institution. If you have unclaimed funds, you should print the form out and mail it completed to:
FDIC
Attn: Claims Department
1601 Bryan Street
Dallas, TX 75201
Every year, the IRS continues to hold unclaimed and returned tax refunds, with an estimated $123.5 million in tax refunds going unclaimed in 2009.
The U.S. Securities and Payments office has billions of dollars worth of unclaimed savings bonds and registered Treasury notes or bonds.
To reclaim any lost bonds, submit Form PDF 1048, Claim for Lost, Stolen or Destroyed United States Savings Bonds, and include information about the dates of purchase, names on bonds and other required information.
If you had a HUD or FHA mortgage, you may be entitled to a refund you don't know about.
Click here to access an online database where you can search by last name and case number or you can call (800) 697-6967 for a refund application, the status of your refund, or if your name does not show on the list, but you believe you have an unclaimed refund.
The National Credit Union Association (NCUA) collects property whenever federally-insured credit unions are liquidated.
You may have property here if you never claimed shares or if there was a surplus after all the shares were liquidated.
You may search a PDF list of recipients. If your name appears on the list, you should download or print the form and mail it to:
AMAC
4807 Spicewood Springs Road Suite 501
Austin, TX 78759
(512) 231-7900
Finally, the Pension Benefit Guaranty Corporation holds unclaimed pensions believed to be worth around $27 million.
You may search the Web site by last name, company name or state.
If your name appears on the list, you can obtain an application by printing, downloading, or requesting one from PBGC at (800) 326-5678. Upon completion, click here to e-mail it or mail it to:
PBGC Pension Search Program
Attn: Customer Contact Center
1200 K Street Northwest Suite 710
Washington DC 20005