Allsup Study of Workplace Injuries
Each year, more than 1 million U.S. workers experience an injury that causes them to miss a day or more of work.
In this study, Allsup used data provided by the Bureau of Labor Statistics to compare serious workplace injury rates across states and within industries. Allsup found rates of serious workplace injury vary significantly between states—even for workers in the same industries.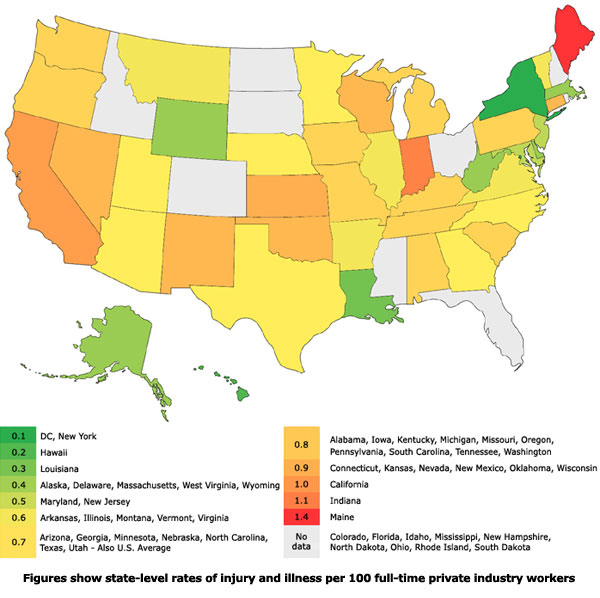 Areas covered by the report:
State-by-state rates for injury and illness cases involving job transfer for restriction
Comparison between private and public sector workplace serious injury rates
Most work-threatening industries (by specific location)
Most work-threatening industries (by national average) and state by state comparisons
Why It Matters Now
A recent SSA report identified injuries as the sixth-leading cause of Social Security Disability Insurance (SSDI) claims, and many claims not filed as injuries involve conditions that can be job-related. At a time when nearly 9 million workers are receiving SSDI benefits—many of whom were originally injured on the job—this report should draw attention to the widely varying rates of worker injury across states.
For More Information
(800) 854-1418, ext. 65065
(703) 683-5004, ext. 110
About Allsup
Allsup is a nationwide provider of Social Security disability, veterans disability appeal, Medicare and Medicare Secondary Payer compliance services for individuals, employers and insurance carriers. Allsup professionals deliver specialized services supporting people with disabilities and seniors so they may lead lives that are as financially secure and as healthy as possible. Founded in 1984, the company is based in Belleville, Ill., near St. Louis. Visit
http://www.Allsup.com
or connect with Allsup at
http://www.facebook.com/Allsupinc
.