April 24, 2020
Allsup Answers Questions About The Impact of COVID-19 On SSDI Applications And Appeals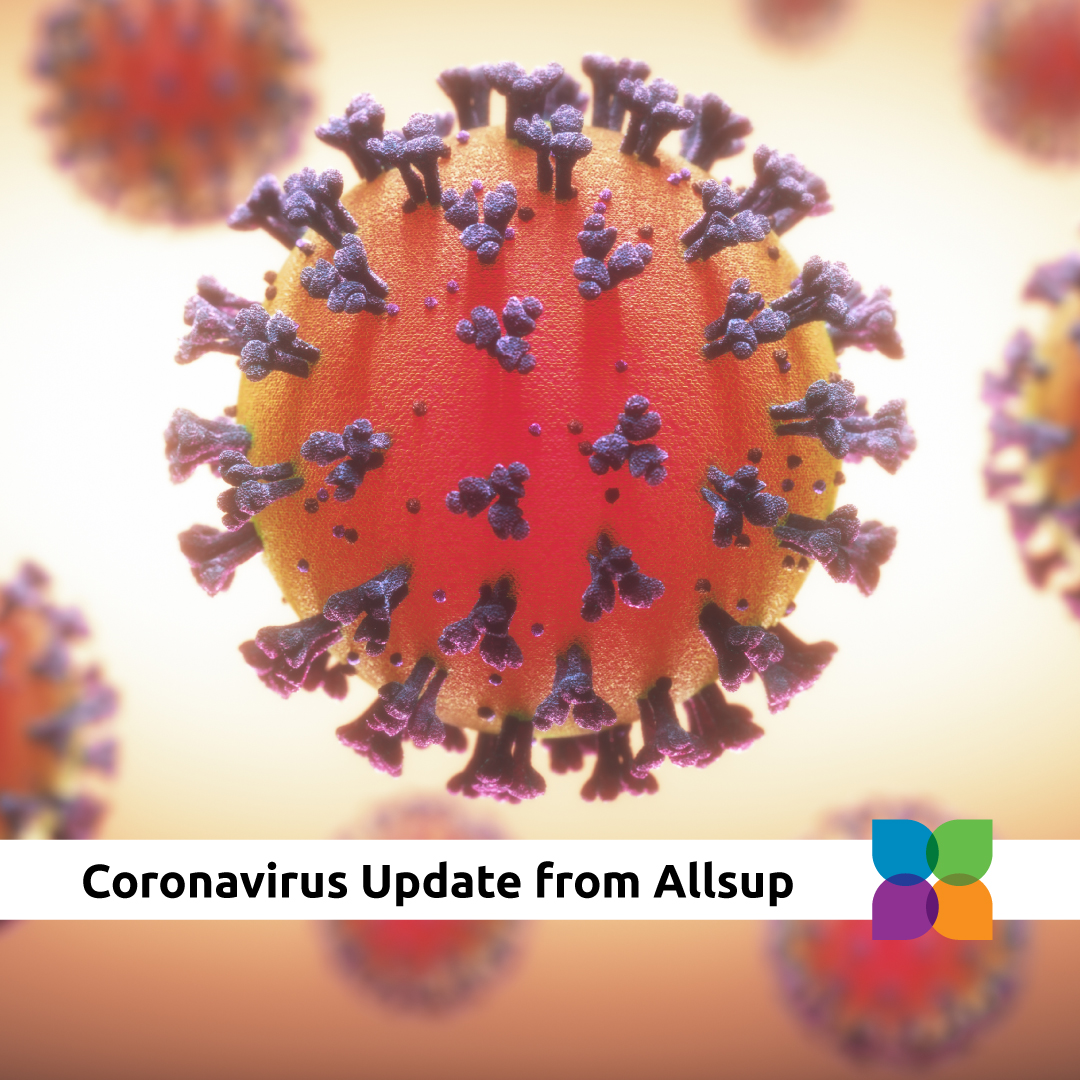 We continue to monitor and are keeping close watch over Social Security's activities so that we can minimize the impact on our customers' application or appeal for benefits. You can keep up with SSA-related plans by visiting our Facebook page, www.Facebook.com/allsupinc
Last updated 4/24/20
Q: IS THE SSA STILL WORKING ON MY DISABILITY CLAIM?
A: The Social Security Administration continues to provide many services to the public, though the agency closed its local field offices and hearing offices and is conducting most activity through its telework program. The SSA does place a priority on many components of the disability program, but we note processing time for most activities has slowed.
Allsup will keep you up to date on any changes directly related to your claim.
Q: WHAT IS ALLSUP DOING TO MAKE SURE MY CLAIM IS PROCESSED PROPERLY?
A: We are doing everything we can to ensure that your claim moves through the program review and determination processes with minimal delay as a result of COVID-19.
Allsup team members are in daily contact with the SSA – filing applications and appeals, gathering medical evidence, scheduling hearings, attending telephone hearings, monitoring decisions and ensuring benefits are properly paid.
Q: I WAS SCHEDULED FOR A CONSULTATIVE EXAM. SHOULD I STILL GO? WHAT IF I AM SICK OR DON'T WANT TO RISK BEING EXPOSED TO THE VIRUS?
A: Please place a priority on maintaining your own health and safety. Some consultative exams are being rescheduled. Claims processing could be delayed if the individual is unable to attend the exam or the healthcare provider has temporarily limited services. If you are unable to attend your CE for any reason, we will work with the agency to reschedule it as soon as possible.
Q: WILL MY HEARING BE CANCELLED, AND IF SO, WILL IT BE RESCHEDULED?
A: The SSA is only conducting hearings by telephone and only during a limited number of hours each day. If you have a hearing coming up, an Allsup specialist will be in touch to discuss this new hearing method or to reschedule your hearing.
Q: I HAVE THE VIRUS AND CAN'T PARTICIPATE IN MY HEARING. WHAT DO I DO?
A: It's very important that you don't risk your health. If you need to cancel your hearing by telephone, we will notify your hearing representative immediately and will work with the SSA to determine your options.
Q: WHAT IF MY HEARING REPRESENTATIVE HAS THE VIRUS AND CAN'T DO MY HEARING WITH ME?
A: We are monitoring all of our team members and, of course, our goal is to ensure everyone is safe. We will assess any situation on a case by case basis and explore the best options available. These may include asking another representative to take over your case or asking the SSA to reschedule your hearing.
Q: I HAVE NOT HEARD IF I WAS APPROVED FOR BENEFITS, BUT A PAYMENT HAS COME FROM SSA INTO MY BANK ACCOUNT. DOES THIS MEAN I HAVE BEEN APPROVED FROM BENEFITS?
A: The SSA's ability to send written notices about its decisions has been slowed. Yes, it is most likely that you have been approved for benefits, and this is your retroactive payment. Congratulations! We will contact you to discuss next steps.
Q: I GOT MY DECISION, BUT MY MONTHLY BENEFIT HASN'T STARTED. WHAT DO I DO?
A: The SSA payment centers are still operating. In general, your payment should start in 1-2 months after your decision has been issued, a bit longer perhaps if you were approved after the hearing was held.
Q: WILL I RECEIVE A CASH PAYMENT UNDER THE CARES LAW CONGRESS JUST PASSED?
A: SSDI beneficiaries are eligible to receive this cash payment. It does not affect your benefits or SGA, and you do not have to repay this rebate. The U.S. Department of Treasury is handling this payment and will use most recent tax returns to get payments to Americans. Do not worry if you have not filed a tax return in recent years. The SSA is providing the Treasury with beneficiary information. However, the IRS asks you to complete a short form on its website if you have dependents in your household who should receive a $500 per child rebate. You can monitor the Treasury's activity and plan at www.irs.gov. Do not call the SSA to ask about this as the agency is not in charge of distributing this rebate.