May 16, 2022
Mental Health Awareness Highlighted In May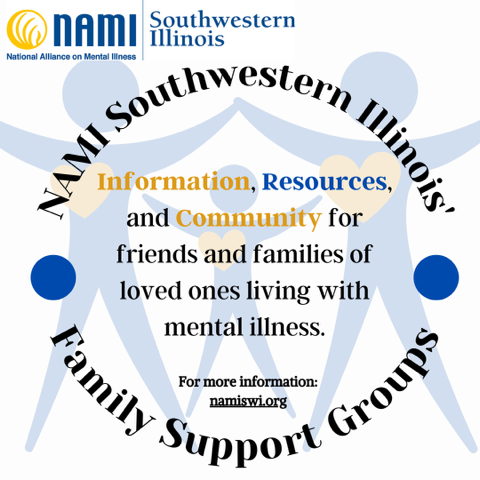 Mental health has continued to grow in national awareness since the creation of Mental Health Awareness Month in May 1949.
Over the decades, this vital movement has grown in significance to help educate the public about mental illnesses such as depression, bipolar disorder, schizophrenia and others.
Organizations throughout the country including Mental Health America and National Alliance on Mental Illness (NAMI) are actively sharing public messages and shining the light on advocacy to not only reduce the stigma of mental illness, but expand the availability of resources and information about these debilitating conditions.
Along with these proactive efforts, worldwide events have played a role.
Our local chapter, NAMI of Southwestern Illinois (NAMI SWI) has supported those with mental illness and their families through difficult times. Their support groups offer both virtual and in-person options. You can learn more about them here.
NAMI recently reported (in this infographic) that the coronavirus pandemic was a factor in the number of reported cases of mental illness. One in five adults experienced mental illness, and one in 20 a serious mental illness, NAMI reports, which speaks to sizable effects on mental health needs.
Mental illness can be debilitating, and for many, Social Security Disability Insurance (SSDI) can be a lifeline. SSDI is federal disability insurance coverage that provides monthly income when someone is unable, or expected to be unable, to work for 12 months or longer due to a severe disability. More than 156 million U.S. workers are insured for SSDI.
The Social Security Administration (SSA) reports mental health disorders as the third-most common condition among current SSDI beneficiaries.  
If you are suffering from a mental illness, perhaps exacerbated by the impact of COVID-19, Allsup can help you determine if you meet the eligibility requirements.
Learn more about the basics of SSDI by visiting SSDI 101 before you apply.  
To hear from an Allsup customer about his experience, watch this video.
Help with SSDI Claims and Appeals
For more information about applying for SSDI benefits, filing your appeal if you were denied, or to see if you are eligible, visit Allsup.com/apply-for-ssdi or call 1-800-678-3276.