August 23, 2016
Take A Bite For Gastroparesis Awareness Month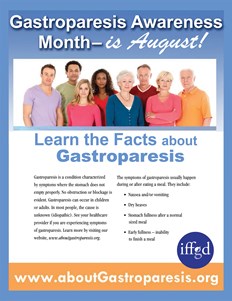 By Guest Blogger Melissa Adams VanHouten, gastroparesis advocate
August is Gastroparesis Awareness Month, and we would like to share a little information about our condition.
Gastroparesis literally means "paralysis of the stomach."
It is a digestive motility disorder in which the stomach muscles, controlled by the vagus nerve, fail to contract and move food from the stomach into the intestines at the proper rate.
This slowing of the stomach emptying process can cause debilitating and sometimes life-threatening symptoms. The may including stomach/abdominal pain, bloating, nausea, vomiting, heartburn/gastroesophageal reflux disease (GERD), and early satiety and can lead to serious complications, such as malnourishment, dehydration, extreme weight loss, esophageal damage, blood sugar fluctuations, bezoars and chronic fatigue.
The National Institutes of Health (NIH) estimates that more than 5 million people live with gastroparesis.
The most common known cause of this condition is diabetes, which accounts for about one-third of the cases. Other known causes of gastroparesis include neurologic disorders such as multiple sclerosis and Parkinson's disease, connective tissue disorders, complications resulting from surgeries, and direct damage to the vagus nerve. Most cases of gastroparesis, however, are labeled "idiopathic," meaning that there is no known cause.
Gastroparesis is most commonly diagnosed by the gastric emptying study (GES), a procedure in which radioactive food is traced through the digestive tract to determine the rate at which food travels from the stomach to the small intestine. Other methods of diagnosis include upper endoscopy, barium x-rays, gastric manometry, and the "smart pill," which, when swallowed, transmits data regarding the rate of passage through the digestive tract.
As of now, there is no safe, reliable, and effective treatment for gastroparesis—and there is no cure.
Available treatment options include surgery, which often is ineffective; medications, which carry the risk of serious side effects; feeding tubes or total parenteral nutrition (TPN), as well as dietary changes to liquid or soft foods, which often does not provide relief.
Living with gastroparesis is challenging, both physically and mentally. It truly is a life-altering diagnosis.
We seek awareness, better treatments, and, ultimately, a cure. We invite you to join one of our awareness campaigns: #TakeABite4GP. The idea is to get people to notice that we cannot eat with the ease that "normal" people can.
Another way you can help is to support H.R. 2311, the Functional Gastrointestinal and Motility Disorders Research Enhancement Act of 2015. This federal bill was referred to the House Ways and Means Committee's Subcommittee on Health on May 15, 2015.
This bill would expand research, increase funding, and promote awareness and understanding of devastating functional gastrointestinal and motility disorders that greatly impact the lives of millions of sufferers. You can send a letter asking Congress to pass this bill at https://buildquorum.com/actions/1996.
For more information about gastroparesis, please contact one of our fine gastrointestinal disorder organizations: the International Foundation for Functional Gastrointestinal Disorders at www.IFFGD.org, and the Association of Gastrointestinal Motility Disorders at www.AGMD-gimotility.org, or visit www.curegp.com