October 13, 2020
Allsup Q&A with Caregiver Action Network – Influence of the Americans with Disabilities Act (ADA)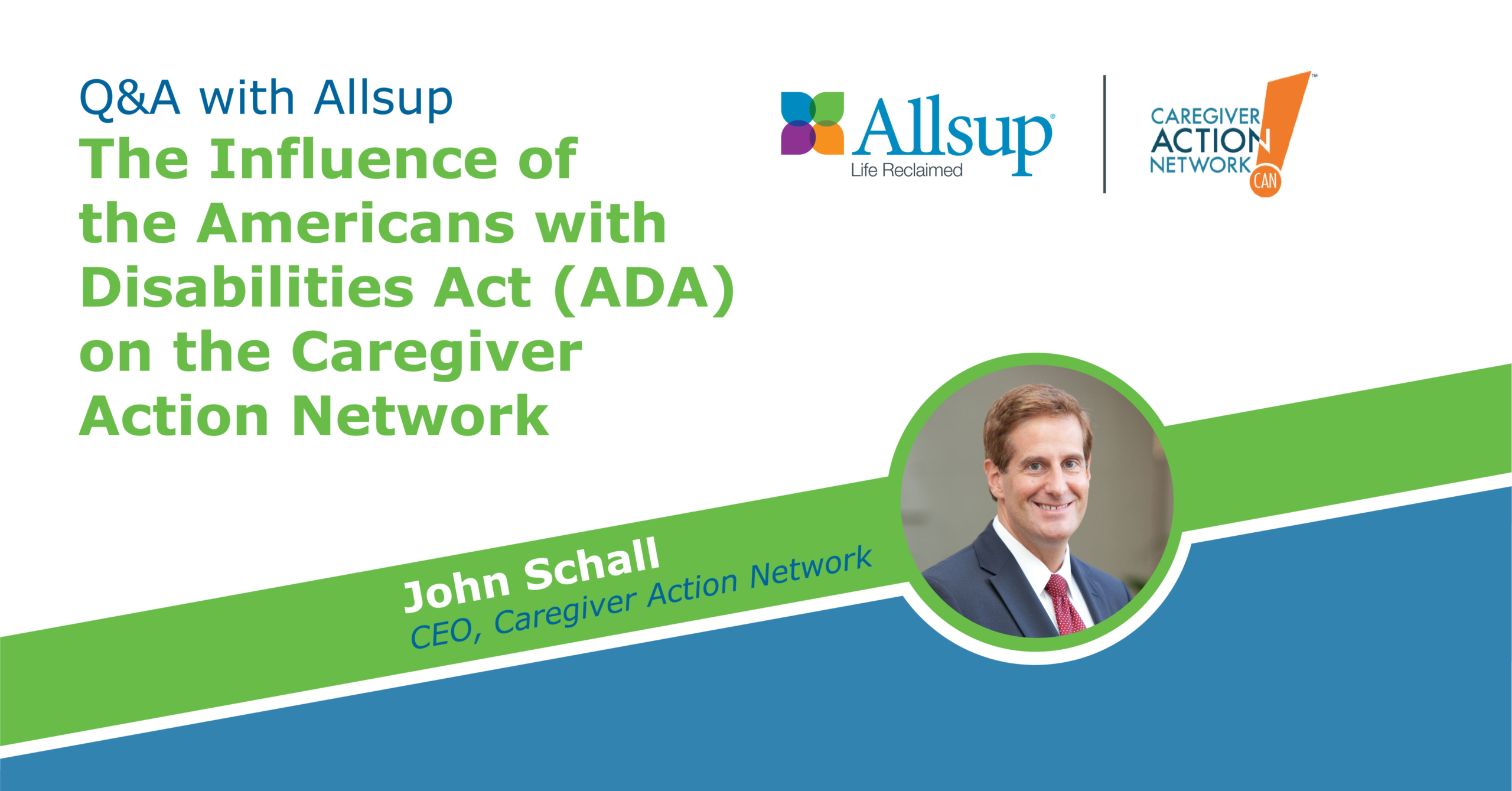 Allsup is joining with organizations nationwide in 2020 to celebrate 30 years of progress achieved with the Americans with Disabilities Act, which was signed into law on July 26, 1990. Disability advocate for those with disabilities, John Schall, CEO of Caregiver Action Network, shares his perspective on the ADA's anniversary and its importance for people with disabilities.
1.How did Caregiver Action Network become involved with ADA? How is your organization involved now? The ADA laid the groundwork for the RAISE Family Caregivers Act, which CAN has enthusiastically supported and advocated for.
2. Can you discuss the status for individuals with disabilities before ADA was established? What propelled the efforts behind this legislation? The ADA provided individuals with disabilities the ability to receive community-based services in the setting of their choice. It has allowed those with disabilities, and those that provide for them, the ability to access meaningful supports for better outcomes. Prior to the ADA, services outside of an institutional setting would be difficult to come by. The ADA also addressed discrimination for individuals with disabilities, helping break down a further barrier that would allow for integration into the community.
3. How has ADA changed the way CAN serves people with disabilities? How do your goals align with ADA's objectives? How do you believe the act will continue to affect the people you serve? The ADA allowed those with disabilities the ability to choose their family caregivers to speak for them when they are not able to. It allowed family caregivers into spaces where they, at their loved one's choosing, could provide support and care. The Olmstead Act, connected to the ADA, allowed for individuals with disabilities the ability to choose community-based supports instead of those based in institutions – making the family caregiver role vital in delivering those supports. CAN's goals are to empower and support family caregivers so they can best support their loved one. The ADA, in breaking down barriers to access services, is a crucial part of that.
4. What are your thoughts on the outcome of ADA's accomplishments 30 years after it was enacted? Without the ADA, access to services and spaces wouldn't be possible. Family caregivers wouldn't be able to support their loved ones in meaningful ways.
5. How do you envision the next wave of change being implemented for ADA in the future? What still needs work? What other initiative would you like to see happen? The work is not finished. As the COVID-19 pandemic has shown, the definition of a person with disabilities continues to evolve and it is important that the protections guaranteed in the law evolve as well.
6. The ADA's 30th anniversary fell approximately 100 days from Election Day in November. The voices and actions of individuals with disabilities are clearly essential in the fight for equality, in terms of voting rights and legislative activities. What do you think are the most crucial steps to ensure those with disabilities have an equal say in democracy? It's crucial that barriers that discourage voting by those with disabilities be eliminated. Greater and easier use of mail-in ballots is one important way to accomplish this.