October 9, 2020
Allsup Q&A with the Invisible Disabilities Association – Influence of the Americans with Disabilities Act (ADA)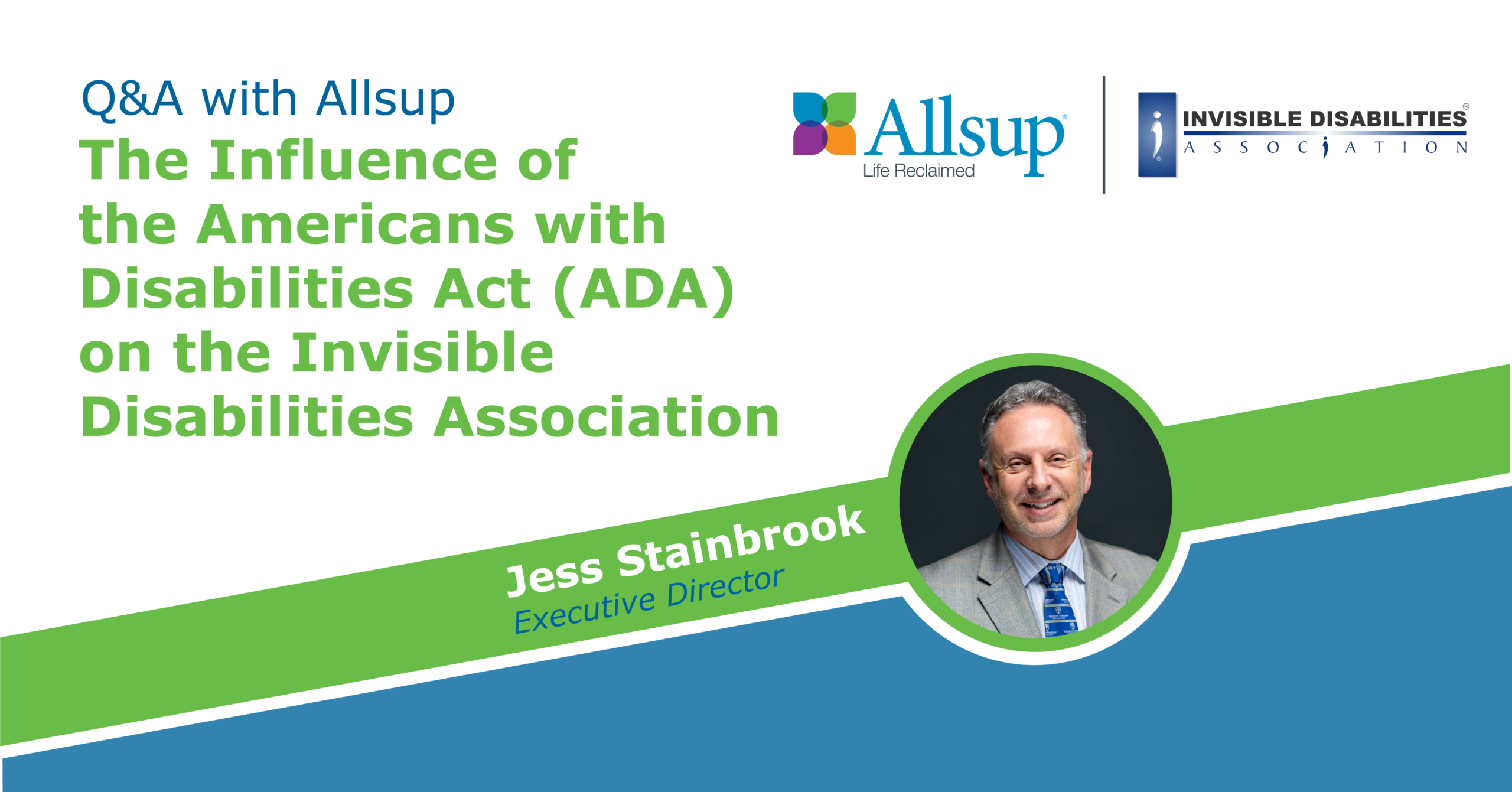 Allsup is joining with organizations nationwide in 2020 to celebrate 30 years of progress achieved with the Americans with Disabilities Act, which was signed into law on July 26, 1990. Disability advocate for those with invisible disabilities, Jess Stainbrook, Executive Director of the Invisible Disabilities® Association (IDA), shares his perspective on the ADA's anniversary and importance for people with disabilities.
How did Invisible Disabilities Association become involved with ADA? How is your organization involved now? The Invisible Disabilities® Association (IDA) officially got started back in 1996 when the Founder, Wayne Connell, and his wife, Sherri, were trying to figure out a way to raise awareness for the various invisible disabilities that she had been diagnosed with, such as multiple sclerosis, Lyme disease and others. Sherri coined the term "invisible disabilities" and it stuck! What people do not necessarily realize is that just because a disability is not visible (such as MS, diabetes, epilepsy, chronic pain or chronic illness), doesn't mean that accommodations shouldn't happen. The ADA actually includes many invisible disabilities as part of the law to help people with disabilities avoid discrimination.
Can you discuss the status for individuals with disabilities before ADA was established? What propelled the efforts behind this legislation? There was nothing in place previous to the ADA that prevented discrimination against people with disabilities. What brought this to fruition was the knowledge that people were being discriminated against in all areas of life and from people, seeing this discrimination, wanting to advocate for the rights of people living with disabilities.
How has ADA changed the way IDA serves people with disabilities? How do your goals align with ADA's objectives? How do you believe the act will continue to affect the people you serve?
One of the main things that we find at IDA is that people living with invisible disabilities are not believed, or people think they are faking an illness. ADA represents the laws that legally protect people with disabilities, and it helps IDA speak and raise awareness for the rights of people with disabilities as a base for conversations. But the true understanding must come from a willingness to believe and understand from inside organizations, such as the Human Resources department of a corporation or a diversity group on a university campus. Without knowledge of what is happening and then action to help those with disabilities, the ADA is just a bunch of thoughts on paper.
Ironically, the symbol for disabilities that was adopted 30 years ago is the icon of a person in a wheelchair. Many people with one or more disabilities that are invisible have no visible assistive device—so the icon, while still representing people who need accessibility, does not represent the entire population of people with disabilities in a way that they can identify.
The ADA laws only work when there is a safe environment, so people feel comfortable in sharing that they have a disability or getting the accommodations they need without feeling slighted or being harassed by others as a result.
What are your thoughts on the outcome of ADA's accomplishments 30 years after it was enacted? The original intent, continued additions and understanding of growing needs in the disability community has been and is crucial for bringing better understanding to all. This is a civil rights issue, like others, that needs to stay at the forefront of the discussion so that we are not infringing on the rights of others who live with disabilities.
How do you envision the next wave of change being implemented for ADA in the future? What still needs work? What other initiative would you like to see happen? These are BIG questions! I think awareness is vital with voluntary disclosure options on government IDs, along with other programs in place to help readily identify how to assist people who request help because of their disability. There are many who do not want their disability to be known, understandably so based on historic records, so keeping disclosure voluntary is critical for providing safe harbor for all.
The ADA's 30th anniversary fell approximately 100 days from Election Day in November. The voices and actions of individuals with disabilities are clearly essential in the fight for equality, in terms of voting rights and legislative activities. What do you think are the most crucial steps to ensure those with disabilities have an equal say in democracy? We need to be involved and at the table for discussions and legislation. These things cannot happen without us as we have the best understanding for tangible and practical solutions for with what is needed based on experience.